Listen Up!
I started my first podcast in 2009 and I've been recording conversations with interesting people who move and inspire me ever since.
Visual Narratives.
Inspired by artists like Robert Rauschenberg and Cy Twombly, my paintings are rooted in my love of using process and materials to create texture and dense visual narratives.
Featured Projects
More bang.
Less buck.
The eBook-only second edition of my book Photography by the Letter is packed with more than 50 additional terms, plus more diagrams, photos, tips, exercises, Q&As, and interviews with incredible photographers—over 300 pages of photography education and inspiration.
There's always a bigger picture.
I believe in the value and importance of the arts, which is why I'm donating a portion of the net proceeds generated by my creative work to non-profits that focus on the arts, including arts education.
Observations and reflections.
About twice a month, I share stories and offer suggestions and strategies (my own and from others) for how to work through the challenges around creating and releasing what we make into the world.
Unsubscribe anytime. I promise to respect your inbox and your privacy.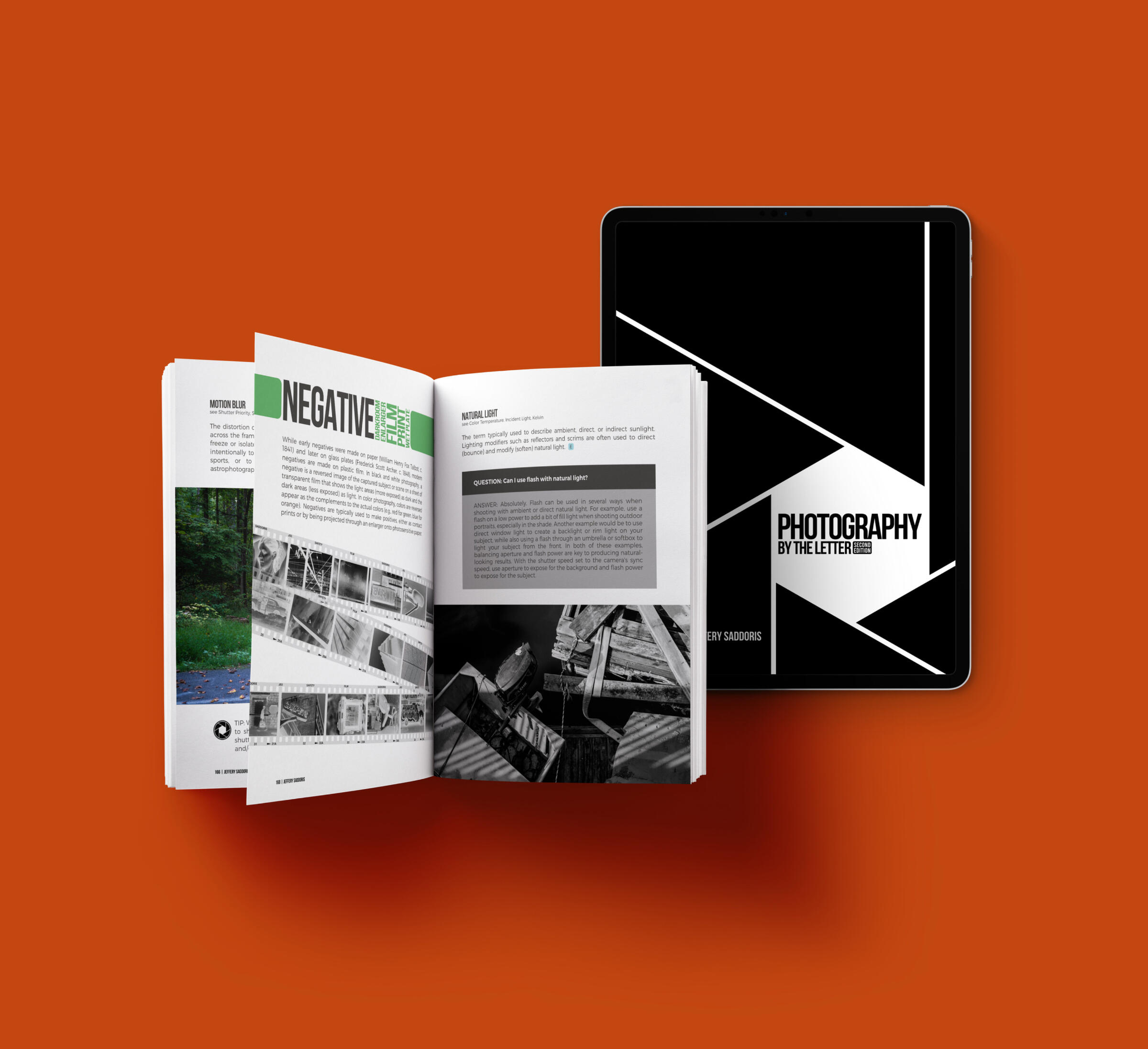 Deep-dive conversations with creators from a wide range of disciplines to talk not only about what and how, but also why.
Purposeful conversations with Sean Tucker exploring the philosophical and practical sides of creativity and art making.
Solo observations and reflections, mostly around visual arts and my own creativity—an inner monologue caught on tape.
One for all.
Subscribe to Jeffery Saddoris: Everything in your favorite podcast app to get every episode of every show, along with special one-off conversations—all in one feed.
Let's Connect.
If you've got questions, comments, or a suggestion for someone interesting you think I should record with, please feel free to reach out. I'd love to hear from you.
© Jeffery Saddoris
The Purpose.
My mom used to tell people that I could draw before I could write. I don't remember that far back but if it's true, it is entirely because of her encouragement. She was a dancer as a child and dreamed of performing on Broadway, but was forced to quit in her teens, never fully realizing that dream. It's something that haunted her, but it also became the catalyst for a lifetime of supporting the arts, especially when it came to me. Regardless of what form my creative expression took — drawing, painting, photography, theater — her support and enthusiasm was constant. She saw the value that following creative curiosity brought to the conversation and because of that, along with a handful of equally inspiring and supportive teachers, mentors, friends, and especially my wife Adrianne, my life has been made exponentially richer and more interesting, punctuated by experiences and encounters that I never would have had otherwise.
Because of the opportunities and experiences the arts have afforded Adrianne and me throughout our lives, we believe in the value and importance of the arts and arts education and have decided to start donating a portion of the net proceeds generated by my creative work to arts education and non-profit organizations focusing on the arts.
We haven't yet made final choices on the Who, but we're solid on the Why and committed to the How Much. We'll post updates as we get closer to narrowing the field, but if you have suggestions for a favorite arts-related non-profit, let us know at talkback@jefferysaddoris.com.
Thank you in advance for your support.— Jeffery & Adrianne
Be a part of the work.
No tiers. No perks. No bonus content.What you hear and see is all done by me — and your donation helps me offset the tangible costs of making.I do it because I love it. I release it so that you can love it too. I give back because I want to help create creative opportunities for others.If you believe in the work, consider becoming a part of the work.I sincerely appreciate your support.Prefer to use Apple Pay? Visit my DonorBox page.
Frequently Asked Questions.
Why is my donation needed?Your donation helps cover some of the real-world costs that I have been incurring for over a decade. Website and podcast hosting, gear, research materials, painting and studio supplies, and the time to hone my knowledge and skills are absolutely necessary for doing what I do — and that's why I'm asking for your financial support.Why don't you just run ads?I don't have anything against ads as long as they're relevant to what I do or what I believe. What I have a problem with are ads that interrupt the flow of a show and simply seem like cash grabs that don't relate to a show or its host. If I'm going to endorse a product or service, I either have to use it or believe in the company behind it. If you produce a product or service that you think might be a good fit for me, email me at talkback@jefferysaddoris.com so we can talk about the possibility of working together.What is Donorbox?Donorbox is one of the leading platforms for fundraising and donations and is used by foundations and nonprofit organizations around the world. Because I've chosen to donate at least 25% of the net revenue generated by my creative work to arts education and non-profit organizations that focus on the arts, using Donorbox as my donation platform felt like a great fit. Learn more at donorbox.org.Can I use PayPal?Not at this time. Donorbox partners with Stripe as their payment processor, which means that you can use virtually any debit or credit card.If I make a donation now, can I change it later?Absolutely. If you make a one-time donation now, you can simply return to this page to make another one or set up a recurring donation. If you set up a recurring donation now, you can log into Donorbox at any time to cancel or change it.Is my donation tax-deductible?No, not at this time, since I am not registered as a 501c3 non-profit organization. If that changes in the future, I'll update this FAQ.How else can I support you?My book and my art are available for purchase – and more items are coming soon! Sign up for my newsletter to make sure you get the latest info about that. It's also really helpful for you to share my work with others, whether by word of mouth, social media, or online reviews. Signal boosting my work helps more people become aware of it, which results in more people who may be willing and able to support that work financially.What do I do if I have more questions (or otherwise want to connect with you)?Email me at talkback@jefferysaddoris.com — I'd love to hear from you!
I am endlessly curious – about people, about creativity, about line and shape and color – and both my personal and professional pursuits are driven by learning, discovering, imagining, listening, celebrating, and making.
As a child, I filled notebooks with sketches and doodles, dreaming of being an animator at Disney. That didn't happen, but I have had decades of incredible experiences and opportunities—creative and otherwise—that have taken me from one end of the country to the other. I've done regional theater in Texas, Alabama, and New York, worked at a special effects house in the San Fernando Valley, spent a bit of time at a post production facility in Hollywood, and was even an art director at a movie studio. All along the way, I've tried to absorb as much as I could knowing that all of these seemingly unrelated experiences would one day coalesce and provide me with a very unique set of skills that I have refined and honed into something special and wholly unique.